April 11, 2018
Affordable Vancouver Taxi Service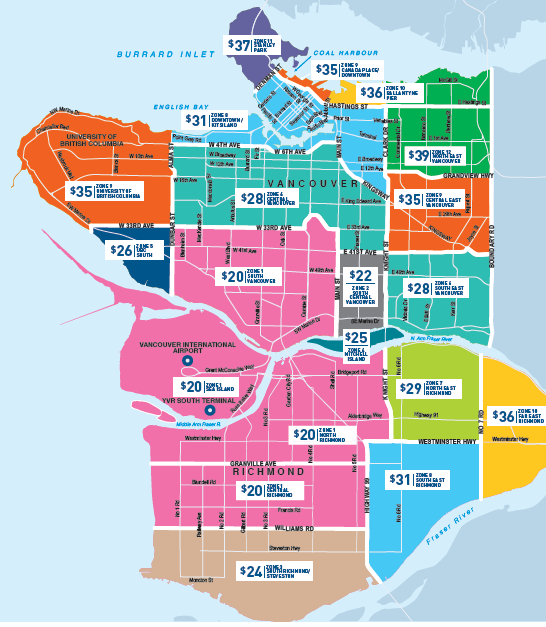 Yellow Cab Company Ltd. of Vancouver is an owner-operated Vancouver Taxi company serving the residents, tourists and business professionals in The City of Vancouver and the surrounding area since 1921. Yellow Cab prides itself as being the leader in the Vancouver taxi industry in British Columbia and is presently the longest operating Vancouver Taxi Company in the Lower Mainland of British Columbia.

Yellow Cab Vancouver has a fleet of 249 taxi cabs on the road, available 24 hours 365 days a year. Yellow Cab Vancouver features 37 Wheelchair accessible Taxi vans and more than 200 hybrid electric vehicles, making it the largest Vancouver Taxi Service in B.C. If you need a taxi in Vancouver chances are the first taxi you will see is a Yellow Cab. Vancouver Yellow Taxi also offers more direct lines in hotels, malls, restaurants, nightclubs, and retail locations than any other company in the city. As Vancouver Taxi Service we offer Vancouver airport taxi, wheelchair taxi Vancouver, taxi cab, airport taxi service, Vancouver transportation, YVR taxi service, airport taxi, jump start, Delivery Service, transportation to Ferry, Vancouver Cabs, Vancouver Hotels to Airport, Night Clubs. As we are the biggest cab company, we can serve more areas faster than anyone else.
All Yellow Cab Shareholders, Drivers and Staff got together so that needy children don't go without toys during the Christmas Season. Yellow Cab team raised more than $12,000 Toys worth over $10,000 were bought and donated to bring a smile on children's faces. Toys were delivered to the Pan Pacific at 6:00 am on Tuesday, November 30th, 2010. The remaining $2000 will be donated to the Foodbank in Vancouver. With this great effort of Yellow Cab team children will have a great Christmas. Management from Yellow Cab wants to thank all shareholders, drivers and staff members for participating in this event. Some of the pictures are below.
PICKUP AND DELIVERY COURIER SERVICE
If you need immediate pickup and delivery of an envelope, parcel or small package (under 20 pound or 10 kilograms), Yellow Cab can assist you. Our call taker will ask you for a telephone number and contact name at the point of pick up and at the point of delivery. This will assist our drivers in ensuring your delivery is made in minimal time. Although the rate is determined by the meter, there is a minimum rate of $15.00 for this Taxi Delivery service.
VANCOUVER AIRPORT TAXI SERVICE
From the City of Vancouver, Yellow Cab offers reliable service to the Vancouver International Airport. However, if you intend to travel during the busy rush hour periods, please ensure you give yourself plenty of time before your flight departs. There are 61 Yellow Cab taxis licensed to pick up at the airport. Yellow Cab is one of 16 companies authorized to provide service from the airport – so if you prefer to use a Yellow Cab, please advise the airport taxi host and he or she will assist you with your request.
JUMP-STARTS *
Yellow Cab provides a Jump Start Service when required by motorists who need roadside assistance. This service is $20.00. Due to the various problems that could be related to a low battery the $20.00 is charged whether the car starts or not.
* Please Note: Yellow Cab is not responsible for any damages caused by improper connections to vehicles. Car owners should make sure that the connections according to their vehicle's requirements. Please look at your owner's manual for details.
PREDATED TAXI ORDERS
If you prefer to call for your taxi in advance, our Dispatch Staff will take your call hours or days prior to your taxi requirement.
Wheelchair Taxi Vancouver
Yellow Cab offers Wheelchair Accessible Taxi service in Vancouver for people with special needs, servicing Vancouver and destinations across Metro Vancouver. We service customers to/from their homes to medical appointments, rehabilitation centers, employment, theatre, shopping trips, wedding, physic-therapy or social activities. We do not leave our customers stranded or unattended. You can drive an electric wheelchair or scooter in our vehicles. Yellow Cab Vancouver has 37 Wheelchair Vans to serve you
CALL-OUT FEATURE
When calling for a Yellow Cab taxi, our Dispatch Staff can have the computer telephone you to advise you when the taxi has arrived or is getting close. To utilize this feature just let us know. Our call taker will take your telephone number and input your request. The next time you call for a taxi, only your phone number will be required, as the computer stores all the particulars of your address. This service is free of charge. Yellow Cab Company Ltd. of Vancouver is an owner-operated company serving the residents, tourists and business professionals in The City of Vancouver and surrounding area.
Web Design, Vancouver Limo, Flowers Delivery, Icbc Lawyer Surrey, Surrey Limousine, Web Design Vancouver, Burnaby Lawyers, Vancouver Limousine, Outsource Web Design, Vancouver Lawyers, Surrey Limo, Software Development Canada, Building Maintenance, Vancouver BC