Geography
Vancouver
Latitude: 49° 13′ North
Longitude: 123° 06′ West
Altitude: 2 m (7 ft) above sea level
City of Vancouver's Population Projection
Year
Population
(Regional Count)*
Population
(Census Equivalent)*
2006
601,200
578,000
2021
673,000
646,000
2031
705,000
676,700
2041
740,000
710,300
Source: Metro Vancouver Regional Growth Strategy (adopted July 29, 2011) and Statistics Canada, Census Data.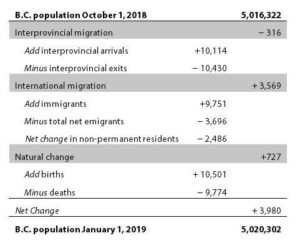 Whistler Information
Latitude: 50° 07′ North
Longitude: 122° 58′ West
Altitude: Whistler Village is 668 m (2,190 ft) above sea level
As of April 2010, Whistler's permanent population was estimated to be 10,531.
Time Zone/Daylight Saving Time
BC is located in the Pacific Time zone, eight hours behind Greenwich Mean Time. Daylight saving time is observed from April to October.
Weather/Climate
Winters on the BC coast are temperate; if snow falls it doesn't settle for long. The BC interior and the rest of Canada experience freezing temperatures and lasting snow from November to March.
Average winter temperatures range from minus 8º to 3º C (18º to 37º F)
Average snowfall in the valley is 430.5 cm
Average snowfall in alpine areas is 914 cm (30 ft)
For current climate and weather conditions by province and territory, visit the Environment Canada website.
Limo Service and Taxi in Metro Vancouver
Vancouver Taxi, Vancouver Limo Service, Surrey Limousine Service, Limo Service Delta BC, Limo Service Langley BC, Limo Service Abbotsford, Limo White Rock to Airport, Limo Service Vancouver BC Airport, Vancouver Taxi App

Currency
the currency used in Canada is the Canadian dollar.
Canadian banknotes are:
$5
$10
$20
$50
$100
Canadian coins are:
One cent (penny)
Five cents (nickel)
Ten cents (dime)
25 cents (quarter)
One dollar (loonie)
Two dollars (toonie)
Main currency exchanges are located in Vancouver International Airport, Many in Downtown Vancouver, banks and hotels.
Sales Tax
most goods and services in Canada and BC are subject to 12% percent HST tax. These taxes may be in addition to the price of goods and services.
Electricity
Outlets and voltage (110 volts) are the same as in the United States. Small appliances — such as hair dryers, irons and shavers — can be used in Canada. Adaptors are required for electrical appliances for visitors from other countries. The frequency of the electrical current in Canada is 60 Hz.
CDMA/GSM (Mobile Phone) Coverage
CDMA phones are currently the most common cellular technology in Canada. CDMA providers include Bell Mobility, TELUS Mobility, Rogers Communications, WIND Mobile, MOBILITY. A CDMA phone will have excellent coverage throughout Vancouver, including all venues.
10-Digit Dialing
there are three telephone area codes for the province of British Columbia: 250, 604 and 778. Dialling in BC requires 10-digit phone numbers, so ensure you include the correct area code in front of the local number you are dialling.
Measurement
Canada uses the metric system. Here are some examples of useful conversions:
1 Canadian gallon = 4.5 litres
1 American gallon = 3.8 litres
1 mile = 1.6 kilometres
1 kilometre = 0.6 miles
30°C = 86°F
20°C = 68°F
0°C = 32°F
minus10°C = 14°F
Official Languages
Canada's greatest cultural assets are that the country boasts two official languages: French and English.
Shopping (hours and days of operation)
Hours and days of operation are determined by each municipality, although most establishments in Metro Vancouver are open seven days a week.
Credit Cards and Travellers Cheques
Most major credit cards are accepted, but visitors are advised to check with the vendor before making a purchase. Cash machines are available in convenient locations throughout Metro Vancouver.
Banking
banking hours in Canada are 9:30 am to 4:30 pm, Monday to Friday. Some locations and branches have extended hours and operate on weekends. In addition, several European and overseas banks have offices in Vancouver. Most banks have automatic teller machines, which can be accessed 24 hours a day using bank or credit cards from major international banking networks such as Cirrus, Plus and Interac.
Personal Safety
Canada is a very safe place to visit, but as with any country, being alert is key to ensuring your safety.
Lock your doors and windows, keep everything in your car out of sight when parked and never leave valuables unattended, especially passports or wallets.
For more tips on personal safety, visit the Government of Canada's SafeCanada website.
Potable Water
Canadian water is considered safe to drink straight from the tap so be sure to fill up your reusable water bottle and stay hydrated throughout the day. It is especially important to drink water in colder temperatures as there is a tendency not to feel thirsty in the cold, which can leave you at risk of dehydration.
Alcohol
The legal drinking age in most Canadian provinces and territories is 19, the exceptions being Alberta, Manitoba and Quebec, where it is 18. Photo ID is required to purchase alcoholic beverages or enter bars, restaurants or nightclubs where alcohol is served.
Driving
A US driver's license is valid in Canada. However, if you are visiting from any other country, you must apply for an International Driving Permit from an automobile association in your country of residence before you leave, to allow you to drive and rent a car in Canada.
Embassies and Consulates
Canada hosts numerous embassies, consulates and high commissions that can provide assistance if you need help with documentation (for example, replacing a lost passport or extending a visa) or dealing with legal, medical or emergency matters.
To search a directory of consular offices across Canada by country of origin, visit the Foreign Affairs Canada website.
Emergencies
For emergencies in both Whistler and Vancouver, dial 911.
Vancouver-Whistler
The Vancouver International Airport services passengers arriving in Vancouver. General inquiries line: 604.207.7077.
Taxi fare is metered and in the $32–$36 range. Canada Line Fare from YVR to Waterfront Station is $8.75, Vancouver Airport Limo cost about $125 including meet and greet.
Sky train Stations between Vancouver Airport and Downtown Vancouver
All Vancouver stations are underground except Marine Drive which is elevated.
Waterfront (Granville Street between Pender and Hastings)
Vancouver City Centre (Granville Street at Georgia Street)
Yaletown–Roundhouse (Davie Street near Mainland Street)
Olympic Village (Cambie Street at West 2nd Avenue)
Broadway – City Hall (Cambie Street at West Broadway)
King Edward (Cambie Street at King Edward Avenue)
Oakridge – 41st Avenue (Cambie Street at West 41st Avenue, next to Oakridge Centre)
Langara – 49th Avenue (Cambie Street at West 49th Avenue, near Langara College)
Marine Drive (Cambie Street southside of Southwest Marine Drive)
Templeton (located north of Grant McConachie Way and east Templeton Street)
Sea Island Centre (near the Air Canada service centre)
YVR–Airport (adjacent to the International terminal of Vancouver International Airport)
Travel on Whistler Rocky Mountaineer train and discover Vancouver and the resort town of Whistler. Call 1-877-460-3200 from Canada and US or 1-604-606-7245 (International).
Vancouver Transit Translink
Vancouver has a great public transit system network set up with city buses, Sea buses, mini ferries and the Skytrain. For more information contact: 604-953-3333.
Fare Product
Zones
Adult
Concession
Single/Cash
Fares
(Tap to Pay)
1
$3
$1.95
2
$4.25
$2.95
3
$5.75
$3.95
Stored Value
(Compass Card)
1
$2.40
$1.95
2
$3.45
$2.95
3
$4.50
$3.95
Monthly Pass
(Compass Card)
1
$98
–
2
$131
–
3
$177
$56
DayPass
All
$10.50
$8.25
HandyDART Service
–
$3
–
West Coast Express
West Coast Express Fares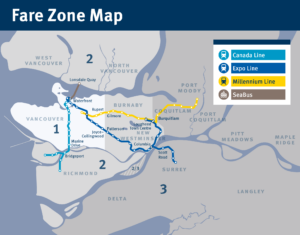 The Waterfront Station is a downtown hub where the Seabus and Skytrain both start/end as well as many buses starting and ending here. It is near Canada Place and Gas Town.
BC Ferries operate from Horseshoe Bay to Nanaimo, to Sechelt, to Powell River on the Sunshine Coast. The cost is $40 for a vehicle and passenger each way. Vancouver Ferries operate from Tsawwassen to Victoria on Vancouver Island.
Driving time from Vancouver to Whistler is 2 hours 120 km (75 miles), from Seattle to Whistler is 5 hours to travel 354 km (218 miles).
North Vancouver
Overlooking Burrard Inlet, backed by the Coast Mountains, North Vancouver has some of the Metro Vancouver best landscape. This area has most everything, alpine wilderness, canyons, rivers, ski facilities and great shopping. North Vancouver, on Hwy 99 is only 5 miles north from downtown Vancouver. A city since 1907, the North Vancouver port is one of the most active in the area.
Squamish
Squamish is located halfway between Whistler and Vancouver. Surrounded by the scenic Coast Mountains, as the hub of the Sea to Sky Corridor this vibrant young community offers a wonderful lifestyle and provides a full range of services to a regional population of more than 25,000
Vancouver
Vancouver is located on the Pacific west coast of Canada in the Province of British Columbia, known for its environmental appeal. The city is surrounded by water on three sides and mountains part of the Coast Mountain Range. Vancouver offers world has known attractions including Granville Island, Robson Street and Stanley Park. The city of Vancouver is the third-largest city in Canada with a population of about 600,000, but Metro Vancouver Area counts about 2 million people. The city of Vancouver is the largest city in the province of British Columbia. Vancouver actually has one of the most ethnically diverse populations in the world, which is constantly maintained by the thousands of immigrants who come here every year, attracted by the famous quality of life in this city, which is repeatedly voted one of the best in the world to live! French and English are the official languages of Canada, but there is next to no French spoken in Vancouver. After English, Cantonese, Mandarin, Korean, Tagalog, and Punjabi are the most common languages spoken.
Vancouver is renowned as being quite a wet city, though in actual fact out of all the major Canadian cities, it is the second driest (after nearby Victoria)! Compared to the rest of Canada, Vancouver has a very mild climate, year-round, and rarely drops below freezing. Snowfall is also quite a rare occurrence in the city. The typical daytime high temperature in the summer is a pleasant 25C (77F) and during the height of summer, rain is uncommon, not really starting until around October.
Vancouver Tourist Attractions: Stanley Park, Capilano Suspension Bridge, Shopping on Robson Street, Canada Place, Gastown, Granville Island, Vancouver Aquarium, Grouse Mountain, Dr. Sun Yat Sen Gardens.
Whistler
Situated 120km north of Vancouver BC. The resort town (known as the village) is located between the two peaks of Whistler Mountain and Blackcomb Mountain. These two mountains produce a year-round selection of leisure opportunities that would be hard to surpass anywhere. Summer activities include great hiking, swimming, sunbathing on lakeside beaches, cycling or just taking a gondola or chair lift up the mountains to admire the magnificent view.
Without doubt one of the top ten finest year-round resorts, there are. It has continually received awards and accolades in a variety of classes including the "Number One Ski Resort in North America," "One of the best golf resorts in the world" and "Best overall resort design." It is most well known as a world-class ski centre, but it is equally attractive as a summer destination with a wide range of activities. If you want you can actually still ski in summer as some runs, on the glaciers high in the mountains are still open.
Blackcomb Peak 2 Peak Gondola
This showpiece gondola stretches 2.73 miles with only two towers on each mountain — which makes a spectacular ride, year-round.
» Ski Resort in Summertime
Whistler is very popular in summer. For example mountain bike, Adventure Zone, Kiss the Sky trampoline, climbing wall, mini-golf, and more.
Features for families include:
» Kids programs: Whistler Kids is one of the largest kid ski programs anywhere in the world. Magic Carpets make learning easy for little beginners. Kids stay with the same instructor all week long.
» Babies and toddlers: Whistler Blackcomb has licensed childcare, and parents get a pager.
» Big Easy Terrain Garden:
» Adventure and Play Zones: Blackcomb Mountain has a Children's Adventure Park, with runs through an enchanted forest, even a ski-through castle. Whistler has an Adventure zone and a play-fort.
» Enclosed gondolas – on Whistler Mountain, families can ski downhill on green runs, and ride back up on the gondola.
» Family Zones: Whistler has Family Zones and Go Slow.
» Coca Cola Tube Park: Have eight lanes, graded green to black.
» After dark, families can ride the Magic Chair.
White Rock
Known for its small-city atmosphere and personality, White Rock is bordered on the south by the United States and the shores of Semiahmoo Bay, on the north, east and west by the District of Surrey.
The magnificent beachfront, the large white rock (shown to the right) on the beach and the 1,500 ft. long pier is the most widely known landmarks of the City. The area boasts a warm, dry climate with more hours of sunshine than Vancouver. It is ideal for swimming and wind-surfing.
This community is located adjacent to the Douglas border crossing, one of the busiest in Canada. The main commercial area centres around Johnston Road (152nd St.) and along North Bluff.
Here, several shopping malls and plazas within walking distance of one another offer a wide variety of specialty shops, sidewalk cafes. The Marine Drive strip, with a touch of California flavour, caters to the summer visitors enjoying the beaches and offers gift shops, pubs and a myriad of specialty retail stores.
Surrey Canada
Surrey is 40 km (25 mi.) east of Vancouver on Highway 99A. The nearest airport is Vancouver International Airport in Richmond. The area is serviced by local and national bus lines.
Surrey offers a unique diversity of urban amenities and spacious countryside. Parks, beaches, cowboys, shopping, history, arts and culture; Surrey, British Columbia, has something to offer everyone. Surrey has over 600 parks and greenbelts, bird watching, nature walks and over 210 km (130 miles) of signed, bicycle-friendly routes.
Golf courses, aquatic centers, tennis courts, baseball diamonds, soccer fields, parks, wave pool, Crescent Beach.
Outdoor activities range from corn mazes to farmers' markets and from trout fishing to ocean kayaking. There is plenty of opportunities to get away from it all for a little fresh air recreation. Enjoy the arts & culture on display at the newly built Surrey Museum. Surrey's history and heritage, along with themed exhibits throughout the year, are always at your fingertips. Attend a concert at the Bell Performing Arts Centre or experience an art show at the Surrey Arts Centre.
The Cloverdale rodeo is on the May long weekend.
The mild year-round climate makes the city ideal for everyone whether they enjoy indoor or outdoor activities.
Local Attractions: Barnston Island, Canadian Museum of Flight, Trout Farm, Historic Stewart Farmhouse, Peace Arch Provincial Park, Rainforest Reptile Refuge, Serpentine Fen Bird Sanctuary, Surrey Centennial Museum, Surrey Public Market, Surrey Arts Centre, Green Timbers, Cloverdale Raceway August – Cloverdale Rodeo